Description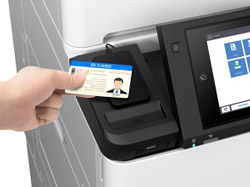 Confidentiality and security
Epson WorkForce WF-C17590 Printer provides Epson Print Admin (EPA), which is a cost recovery/scan workflow solution for security and streamlined process. The benefits include easy access, confidentiality and control, which all contribute to enhanced workflow. This is particularly useful where confidentiality and fast, direct access to prints is crucial. This also includes senior management, legal and HR environments, and customer-facing staff like teachers, doctors, nurses and retail staff who can't leave customers, patients or students while they go off to pick up prints.
Fast print speeds
Heat-free PrecisionCore technology ensures each nozzle on the print head delivers. The result is ultra-fast print speeds that eclipse those of colour lasers. WorkForce Enterprise printers deliver professional quality, two-sided colour prints at groundbreaking fast print speeds, making it easy to increase productivity, without compromising quality. I can handle any project with speed and ease.
Laser-sharp black and colour text
Delivering perfectly round droplets and extremely accurate dot placement, these remarkable print heads ensure extraordinary output, whatever the application delivering brilliant, ultra-sharp text on plain and speciality papers.

Simple wireless connectivity
Connect to your wireless2 network in a snap — 802.11 n, is supported. Wi-Fi Direct enables users to connect easily to wireless networks without a router in seconds, allowing printing from virtually any room in the office.
Wired networking
Built-in Ethernet makes sharing the printer on your network quick and easy.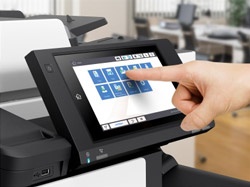 Productivity anytime, anywhere
Easily print from your tablet or smartphone using Epson Connect™. Supports Android™, Apple® iPad and iPhone, Chromebook™, Kindle Fire™, Mac® and Windows® devices. Wirelessly print documents, photos, emails and web pages whether at the office or on the go. Also, you can also scan documents and save them to the cloud for easy access and collaboration.
Print from your iPad or iPhone
Apple® AirPrint™ makes it simple to print emails, photos, web pages and documents straight from your iPad or iPhone. There's no software to download, no drivers to install, and no cables to connect. Thus,  Your Apple device will automatically connect to the printer.
Scan to and print from the cloud
Print on the go from a smartphone or tablet using Google Cloud Print™ with your Gmail™ or Google Drive™ account. Print from your Chromebook™ and Google Chrome™ without installing drivers or connecting cables. It's now even easier to share your documents and images from anywhere.

Enterprise Security
Epson WorkForce WF-C17590 Printer is certified with ISO/IEC 15408. This is an international standard that specifies information security criteria for Multi-Function Printers (MFP). MFP security comprehensively strengthened by providing standard-compliant security functionalities such as user identification and authentication access control; data overwrite, network protection, security management, self-test, and audit logs.ISO/IEC 15408, also called Common Criteria (CC), is an international standard for the independent and objective evaluation of security measures in IT products and systems to determine whether those measures are properly designed and implemented.
The WorkForce Enterprise provides users to offer robust information security to supplement its unbeatable performance and usability.
Download Printer Driver Here
---
† Mono and colour print speeds are measured in accordance with ISO/IEC 24734. Actual print times will vary based on system configuration, software, and page complexity. For more information, visit www.epson.com./printspeed
‡ Mono and colour copy speeds determined in accordance with ISO/IEC 29183. Actual copy times will vary based on system configuration and page complexity.
1 The Epson WorkForce Enterprise models maximum power consumption of 320W is 87% less than the average of 22 laser counterpart 60 ppm+ models. Data available in the Australian market as at 31 October 2018, based on manufacturers' own specifications.
2 Most features require an Internet connection to the printer, as well as an Internet- and/or email-enabled device. For a list of Epson Connect enabled printers and compatible devices and apps.
3 Requires an Internet connection, a free Epson Connect account and a destination email address or cloud storage account. For a list of supported cloud services.
4 With optional high-capacity input; 2,350-page capacity standard.
5 Based on 200 dpi, A4 size, in Mono or Colour.
6 Wi-Fi CERTIFIED™;
the level of performance subject to the range of the router being used. Wi-Fi Direct® may require printer software.
7 NFC requires use of a device that includes NFC, and may require additional software.
8 It Support printing and scanning under Windows Server OS.
9 Some applications and/or functions may not be supported under Mac OS X®.
10 Internet access is required to install OS X drivers and software.
11 Not all media types are supported for PCL printing.
12 Replacement cartridge yields are based on ISO/IEC 24711 tests in Default Mode printing continuously. Black Yield of 100K pages achieved by two 50K cartridges. Both are required for operation.